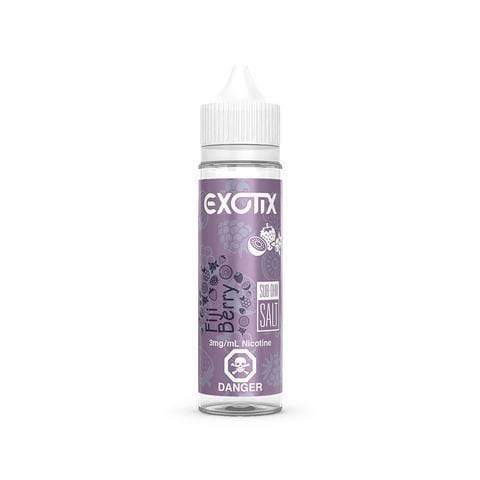 Fiji Berry - Exotix Sub-Ohm Salt Nic - 60mL
Exotix
Fiji Berry By Exotix Sub-Ohm Salt Nic
Fiji Berry by Exotix Sub-Ohm Salts is strawberry kiwi blended with sweet dark berries for the perfect twist on a classic flavour! Nic Salt vape juice intended for sub-ohm tanks.
Fiji Berry by Exotix Sub-Ohm Salt Nic comes in 60mL bottles & 70VG / 30PG salt nicotine blend.
BURSTING WITH EXOTIC FRUIT FLAVOUR AND A LIGHTNING SMOOTH EXHALE, EXOTIX BRINGS ALL THE INCREDIBLE FLAVOUR OF SUB OHM VAPING, AND INFUSES IT WITH THE FAST ACTING SATISFACTION OF HIGH QUALITY SALT NIC.
Exotix Sub-Ohm Salt E-Liquid - Fiji Berry Features:
Flavour Profile: Berries, Kiwi, Strawberry
60mL Chubby Unicorn Bottle
Child Resistant Cap
Nicotine Salts Formulation
Crafted For Sub-Ohm Tanks
70% VG
30% PG
Made in Canada
Available Nicotine: 3mg, 6mg, 12mg, 18mg
Fiji
Good, but not as good as Berry Cove by the same company
Fast delivery
Came 2 days before expected. Much appreciated! Will shop here again when needed
Very fast delivery, I appreciate it.
The product is as good as the seller. Recommend to all. Will shop again
---
We Also Recommend
---