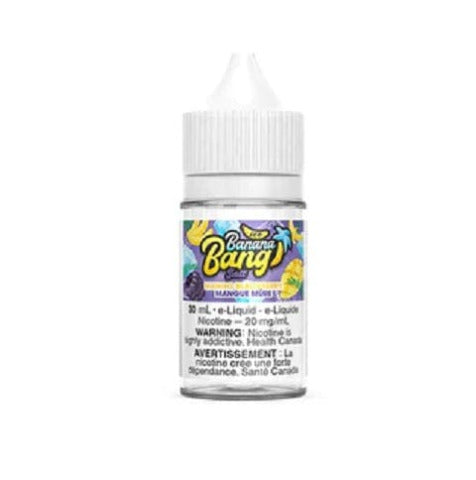 Mango Blackberry Salt Nic - Banana Bang ICE Salts - 30mL
Banana Bang Salt
Banana Bang ICE Salts - Mango Blackberry Salt Nic
Mango Blackberry Salt Nic by Banana Bang ICE Salts flavour is a tropical mango and tart blackberry with a smooth banana base and a splash of Icy menthol.
Banana Bang Ice Salt Mango Blackberry comes in 30mL bottles & 50VG / 50PG nic salts blend.
Introducing Bold35 and Bold50 is a unique hybrid nicotine blend optimized for your salt nic vape system with a stronger throat hit to replace the satisfaction of the original 35mg & 50mg salts, using only 20mg of nicotine.
Banana Bang Ice Salts - Mango Blackberry Nic Salt Features:
Flavour Profile: Banana, Mango, Blackberry, Ice
30ml Chubby Gorilla Bottle
Child Resistant Cap
Nicotine Salts Formulation
Crafted For Ultra-Low Wattage & Pod-Based System
50% VG
50% PG
Made in Canada
Available Nicotine: 12mg, 20mg, Bold 50mg
Banana Bang Salt E-Liquids is NOT intended for use in Sub-Ohm Tank systems. Banana Bang Salts is intended for small form factor, fillable pod systems. Ensure your customers are properly informed as Banana Bang Salt Nic E-Liquid contains significantly higher levels of nicotine per milliliter.
Amazing!
Loved it, the first time I tried it, I knew right away it's going to be my new favourite flavour. and I'm super picky about my flavour, but I recommend Banana bang mango blackberry salted to all of my friends. Great taste, Great blend of flavours, and very smooth. Truly one of my new favourite flavours.
Not my thing
In my personal opinion I did not like it
---
We Also Recommend
---