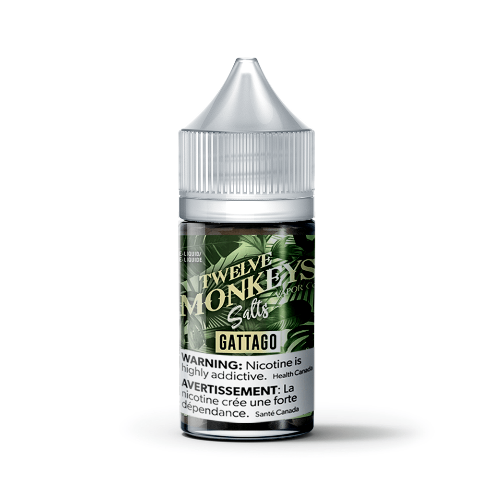 Gattago Salt Nic - Twelve Monkeys Salts - 30mL
Twelve Monkeys
Gattago Salt Nic By Twelve Monkeys Salts
Gattago Salt Nic by Twelve Monkeys Salts is a tribute to two of our popular vape juice grape flavours. Featuring main notes of delicious white grapes, this unique and masterfully blended e-liquid takes on the traditional grape flavour is definitely one of Tribe12M's new favourites!
12 Monkeys Gattago Salt Nic comes in 30mL bottles & 50VG / 50PG nicotine salts blend.
Twelve Monkeys Salts - Gattago Salt Nic Features:
Flavour Profile: White Grape
30mL Chubby Unicorn Bottle
Child Resistant Cap
Nicotine Salts Formulation
Crafted For Ultra-Low Wattage & Pod-Based System
Juice Line: 12 Monkeys Salts Origins
50% VG
50% PG
Available Nicotine: 10mg, 20mg
12 Monkeys Salts E-Liquid is NOT intended for use in Sub-Ohm Tank systems. 12 Monkeys Salt Nic E-Liquid is intended for small form factor, fillable pod systems. Ensure your customers are properly informed as Twelve Monkeys Salts E-Liquid contains significantly higher levels of nicotine per milliliter.
The best Seller!! Thank you for very very fast shipping a Very Very good products!! I loveit , and I buy more.
Definitely happy with this purchase
woooooooow your faster and excellent .. thanks my friend.
---
We Also Recommend
---