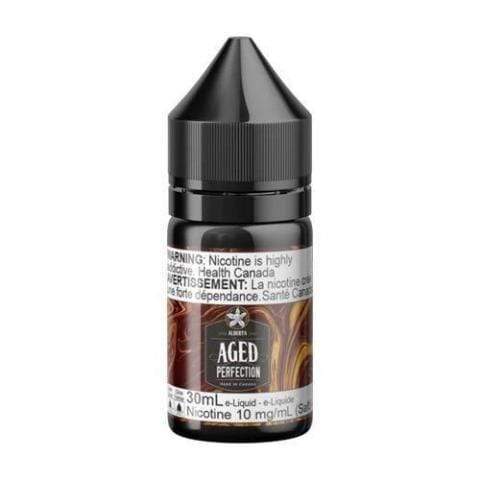 Aged Perfection Salt Nic - Cloud Haven Salts - 30mL
Cloud Haven
Aged Perfection Salt Nic By Cloud Haven Salts
Aged Perfection Salt Nic by Cloud Haven Salts is a creamy custard pudding with the sweet savoury flavour of the finest bourbon that Canada has to offer, now available in Salt Nicotine E-Juice!
Cloud Haven Aged Perfection Salts come in 30mL bottles & 50VG / 50PG nic salt blend.
Cloud Haven Salts E-Liquids - Aged Perfection Salt Nic Features:
Flavour Profile: Custard, Bourbon, Vanilla
30mL Chubby Unicorn Bottle
Child Resistant Cap
Nicotine Salts Formulation
Crafted For Ultra-Low Wattage & Pod-Based System
50% PG
50% VG
Available Nicotine: 10mg, 20mg, 30mg, 40mg
Cloud Haven Aged Perfection Salt Nic Review:
Cloud Haven Salt E-Liquids is NOT intended for use in Sub-Ohm Tank systems. Cloud Haven Salts is intended for small form factor, fillable pod systems. Ensure your customers are properly informed as Cloud Haven Salt E-Liquid contains significantly higher levels of nicotine per milliliter.
very nice !!
I paired this juice with a glass of Jim Beam Devil's Cut this weekend. Words can't explain just how delicious this was. I would highly recommend Aged Perfection for any Bourbon lover. Three thumbs up.
Aged perfectly
I love aged perfection! It doesn't matter if I get the 20mg or 10mg salts or go to the 6mg or 3mg juice, it all burns and tastes the same….perfection! No popping, no weird tastes, it's always just how it should taste. This is by far my favourite vape juice!
Good
Has a unique flavor the really grows on you after a few pulls. I love this one for first thing in the morning with my cup of coffee.
Excellent and very fast. Everything perfect
Very good product, recommend!
---
We Also Recommend
---