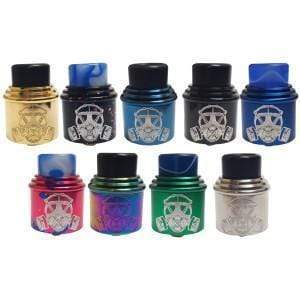 Apocalypse Gen 2 RDA By Armageddon MFG
Apocalypse
Apocalypse Gen 2 RDA By Armageddon MFG
The Apocalypse Gen 2 RDA (Canada) is a 24mm dual coil only RDA designed and manufactured by Armageddon MFG. This RDA features a clamp design for simple coil installation.
Featuring a fully adjustable teardrop airflow design which when fully opened has two 5mm diameter air holes the Apocalypse RDA offers massive cloud production. It has been excessively hyped by many as the "Goon Killer" and is apparently marketed as such. We all know that hype is often misplaced so let's have a good look at the Apocalypse to see if any of it is justified!
Quick Link:
Armageddon MFG - Apocalypse GEN V2 RDA Features:
24mm Diameter
4mm Deep Juice Well
Superior Stainless Steel Construction
21mm Build Deck - Gold-Plated or SS-Plated
Two-Post, Dual Terminals Per Post Design
Bridge-Clamp Mechanism - Top-Mounted by Slotted Screws
PEEK Insulated Positive-Post
Dual Slotted Side Airslots - Fully Adjustable
Teardrop Slotted Design
Conical Top Cap - Flavor-Enhanced
810 Delrin Wide bore Drip Tip
Serialized Engravings
Gold-Plated 510 Contact Pin
Includes:
1 Apocalypse GEN2 RDA
Spare Parts & O-Rings
Apocalypse Gen 2 RDA Review:
Very beautiful fit my vapo, thank you very much.
Good product and very fast shipping.
Nice finish well made works good
---
We Also Recommend
---