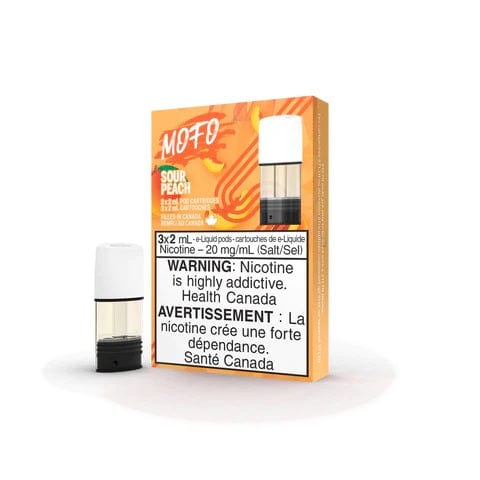 Sour Peach By MOFO - STLTH Pods - (Bold/Salt Nic)
STLTH
MOFO - STLTH Pods - Sour Peach - (Bold/Salt Nic)
Sour Peach by MOFO STLTH Pods is a peach flavoured sugar-coated O Ring and gives your pallet a sour tangy taste of peach. So good! Enjoy your favourite chewy fuzzy peaches all day long. 3 Pods Per Pack.
MOFO STLTH Pods Sour Peach are available in packs of 3, prefilled by the manufacturer, compatible and designed specifically for the STLTH Vape Pod Device. STLTH Sour Peach Pods by MOFO comes in one nicotine strength with two options: 20mg/ml regular Salt Nic, or 20mg/ml Bold50 hybrid nicotine.
Introducing Bold50 is a unique hybrid nicotine blend optimized for the STLTH system with a stronger throat hit to replace the satisfaction of the original 35mg & 50mg salts, using only 20mg of nicotine.
SAVE 15% ON ALL STLTH PODS WHEN YOU PURCHASE 10 OR MORE STLTH POD PACKS. MIX AND MATCH BETWEEN ANY STLTH FLAVOUR. DISCOUNT WILL AUTOMATICALLY BE APPLIED AT CHECKOUT, NOT VALID WITH ANY OTHER DISCOUNT CODES OR PROMOTIONS.
Find All STLTH Vape Pod Flavours Here
STLTH Pods - MOFO - Sour Peach Features:
Flavour Profile: Sweet and Sour Fuzzy Peaches
Each Pack Contains 3 Pods
2mL E-Liquid Per Pod
Nicotine Salts Formulation
Made For STLTH Vape Device
Manufactured By MOFO
Available Nicotine: 2.0% (20mg), Or Bold50 2.0% (20mg)
The nicotine blend is proprietary, purposely made to be extra smooth to accommodate adult smokers who are looking to switch from traditional tobacco.
Sour peach
Love the taste of sour peach stlth takes like mikes hard sour peach alcoholic drink.
Sour Peach By MOFO - STLTH Pods - (Bold/Salt Nic)
Sour Peach By MOFO - STLTH Pods - (Bold/Salt Nic)
Product received, it was worth the wait
---
We Also Recommend
---