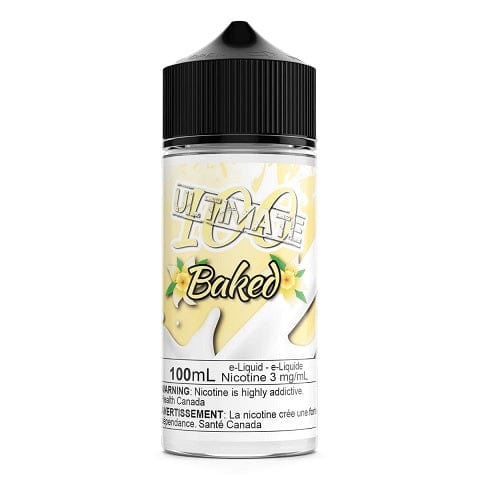 Baked - Ultimate 100 E-Liquid - 100mL
Ultimate 100
Baked By Ultimate 100 E-Liquid
Baked by Ultimate 100 E-Liquid is simply the best Vanilla Custard available! The perfect smooth and creamy blend of sweet vanilla custard!!
Ultimate 100 Baked Vape Juice comes in 100ml bottles & 70 VG / 30 PG premium e-juice blend.
Ultimate 100 E-Liquid - Baked Features:
Flavour Profile: Vanilla Custard
100mL Chubby Gorilla Bottle
Child Resistant Cap
70% VG
30% PG
Made In Canada
Available Nicotine: 3mg, 6mg
Best flavor if you ask me .!
I love this juice , only reasons I gave a 4 star is cause I wish they made it stronger
6 mg is not enough for me but I will still buy it for sure .
Baked
Love this vape juice so much. It has nice flavour.
Baked - Ultimate 100 E-Liquid
Good flavor. I wish they made 20 nic in the 100ml bottle.
Amazing Custard!
I've tried other Vanilla Custards prior to this one, and ALOT of V-Custards tend to have a candle wax kind of aftertaste to them, but that isnt the case with Baked.
With 'Baked,' it legitimately feels like you are vaping a Vanilla Custard cupcake, or a Danish or some kind of pastry. It is that good. Even in doing the vaper smell test when you first crack the seal, you can tell that this is a high quality liquid.
This is my first 100ml bottle of 'Baked' but I am a halfway through it after about a week already. Took more than 3 weeks to arrive, but that was an issue with Canada Post and Liberty Vape had gone through hurdles to get my order to me, amazing customer service!
5 stars from me and I will definitely be ordering more before this bottle runs out.
---
We Also Recommend
---