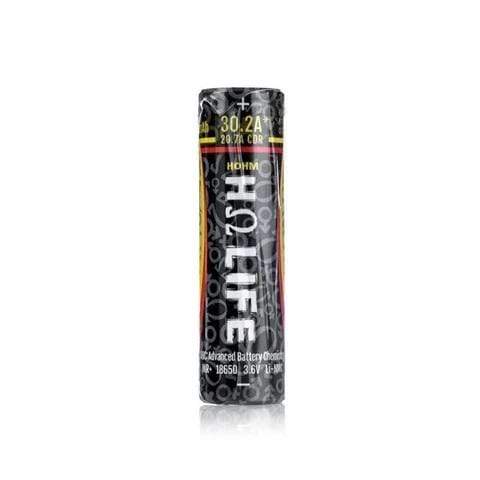 Hohm Tech Life 18650 3015mAh 22.1A Battery
HOHMTECH
HOHM TECH LIFE 18650 Battery 3015mAh 22.1A
The Hohm Tech LIFE 18650 Battery (Canada) is a high-amp 3015mAh 22.1A rechargeable battery from a renowned battery manufacturer, perfect to use in regulated vape box mods and other high power devices. The Hohm Tech LIFE features 3015mAh capacity and constructed with Hi-Drain capability for safety with flat top design.
*Price is for one battery only*
HOHM TECH HOHM LIFE 18650 Battery Features:
Designed to feed power-hungry devices without having to swap batteries every other minute
Mn and Mn inert replaced by an additional 2.5% Cobalt (Co) & Nickel (Ni) proprietary levels
Exceeds all previous designs and chemistry results with greater amperage and capacity
Cathode Tag made from UH Purity Aluminum: Ultra-High Purity (UHP)
Updated Poly Seal: Enhances security of seal & proper operation
NEW Mn bonding process that achieves greater purity: Cycle Life is increased to 75% nominal average of original capacity
NEW NiCo Meld over 10kHz: process increases charging rate to 4.25A from previous 4A
Specifications:
Model: Life
Size: 18650
Style: Flat Top
Continuous Discharge Rating: 20.7A CDR / 36.3A Max Pulse as rated by Hohm Tech
Nominal Voltage: 3.7V
Maximum Voltage: 4.2V
Max Charge Rate: 4.43A
Max Charge Voltage: 4.2V
Protected: No
Rechargeable: Yes
Dimensions: 18.23mm x 65.12mm
Weight: 44.73g
Max 80oC | 3.2V cut-off: 31.5A
Pulse | Peak6: 37.1A
Cycle Life Retention: 500 @ ≥70%, 1000 @ ≥60%
Wattage output up 5% to 63W; Amperage up 6.8% to 22.1A CDR; Capacity up 7.4% @ >15A loads
Chemistry enhanced by QSP (quad stripping process), which is proven to deliver greater voltage-sag resistance
Includes:
1x Hohm Tech Life 18650 Battery
Good batteries, came charged half.
---
We Also Recommend
---