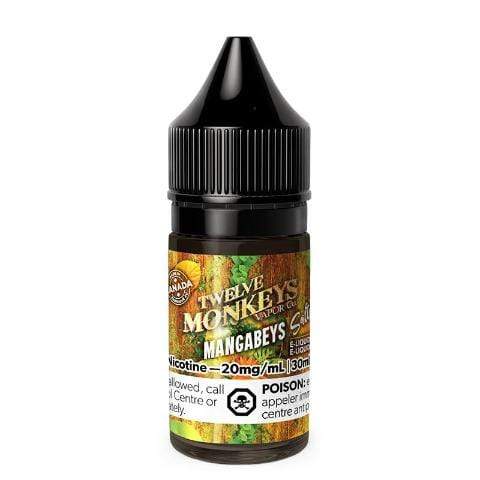 Mangabeys Salt Nic - Twelve Monkeys Salts - 30mL
Twelve Monkeys
Mangabeys Salt Nic By Twelve Monkeys Salts
Mangabeys Salt Nic by Twelve Monkeys Salts flavour will transport you to the sunny carefree shores of the Caribbean islands. This bright and fresh blend of Pineapple, Mango and Guava is accented by a myriad of Caribbean fruits and is the perfect companion for a day basking in the warm tropical sun. Let Mangabeys' Caribbean specific fruits give you a taste of the island lifestyle!
12 Monkeys Mangabeys Salt Nic comes in 30mL bottles & 50VG / 50PG nicotine salts blend.
Twelve Monkeys Salts - Mangabeys Salt Nic Features:
Flavour Profile: Pineapple, Mango, Guava
30mL Chubby Unicorn Bottle
Child Resistant Cap
Nicotine Salts Formulation
Crafted For Ultra-Low Wattage & Pod-Based System
Juice Line: 12 Monkeys Salts Classics
50% VG
50% PG
Available Nicotine: 10mg, 20mg
12 Monkeys Salts E-Liquid is NOT intended for use in Sub-Ohm Tank systems. 12 Monkeys Salt Nic E-Liquid is intended for small form factor, fillable pod systems. Ensure your customers are properly informed as Twelve Monkeys Salts E-Liquid contains significantly higher levels of nicotine per milliliter.
Maybe...
More 2.5/5 stars. I don't typically like 12 monkeys (it's my least favourite brand to be honest), but this is arguably their best one that I've tried thus far, but I wouldn't buy it again. It's more tart than sweet, very harsh to smoke, and lacks distinct flavour profile. Currently smoking out of the Drag 2 with PNP-VM1 0.3 ohm coils - it leaks, but it's my sweet spot, HOWEVER have tried this on different mods and tanks with the same result.
Mangabeys Salt Nic
Excellent product, great taste!
Mangabeys Salt Nic - Twelve Monkeys Salts - 30mL
Mangabeys Salt Nic - Twelve Monkeys Salts - 30mL
---
We Also Recommend
---