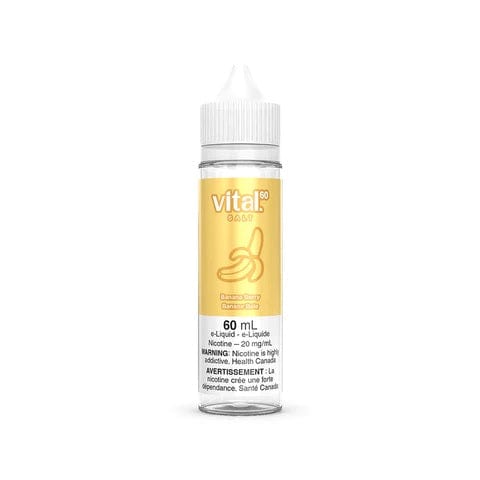 Banana Berry Nic Salts - Vital 60 Salt - 60mL
VITAL
Banana Berry Nic Salts By Vital 60 Salt - 60mL
Banana Berry Nic Salts by Vital 60 Salt is a delicious blend of ripe bananas and juicy berries that will tantalize your taste buds. This premium Salt Nic is carefully crafted to deliver a smooth and satisfying vaping experience, bursting with fruity goodness. With each puff, you'll experience the sweet and creamy flavour of banana, perfectly complemented by the tartness of mixed berries.
Vital 60 Salt Banana Berry Nic Salts come in 60ml bottles & 50VG / 50PG Nicotine Salts blend.
Vital 60 Salt - Banana Berry Salt Nic Features:
Flavour Profile: Banana, Berry
60mL Chubby Gorilla Bottle
Child Resistant Cap
Nicotine Salts Formulation
Crafted For Ultra-Low Wattage & Pod-Based System
50% VG
50% PG
Available Nicotine: 12mg, 20mg
Vital 60 Salts E-Liquid is NOT intended for use in Sub-Ohm Tank systems. Vital 60 Salts E-Liquid is intended for small form factor, fillable pod systems. Ensure your customers are properly informed as Vital 60 Salts E-Liquid contains significantly higher levels of nicotine per milliliter.
---
We Also Recommend
---