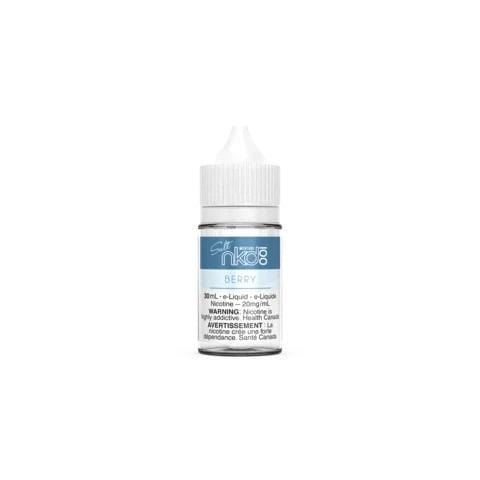 Berry (Very Cool) Salt Nic - NKD 100 Salts - 30mL
Naked 100
Berry (Very Cool) Salt Nic By NKD 100 Salts
Berry Salt Nic by NKD 100 Salts (formerly Very Cool) takes freshly picked Blueberries, Blackberries, and Raspberries, flash freezes them, blend them, and drizzle a little bit of honey on top. Very Cool is as amazing as it sounds, with a sweet and tangy profile layered with refreshing notes of ice.
NKD 100 Salt Berry nic salts come in 30mL bottles & 50VG / 50PG nicotine salts blend.
Introducing Bold35 and Bold50 is a unique hybrid nicotine blend optimized for your salt nic vape system with a stronger throat hit to replace the satisfaction of the original 35mg & 50mg salts, using only 20mg of nicotine.
NKD 100 Salt - Berry Nic Salts (Very Cool) Features:
Flavour Profile: Blueberries, Raspberries, Honey, Menthol
30mL Chubby Unicorn Bottle
Child Resistant Cap
Nicotine Salts Formulation
Crafted For Ultra-Low Wattage & Pod-Based System
50% VG
50% PG
Made in USA
Available Nicotine: 12mg, 20mg, BOLD50
Nkd 100 Salt E-Liquid is NOT intended for use in Sub-Ohm Tank systems. Nkd 100 Salt E-Liquid is intended for small form factor, fillable pod systems. Ensure your customers are properly informed as Naked 100 Salt E-Liquid contains significantly higher levels of nicotine per milliliter.
I think it's awesome the only kind of vape juice I actually really like now. It's just enough flavour and just enough menthol the strawberry Pom is really good too!!
Dark berries and cool
What's not to love here
Premium juice. Consistent
Coolness on the inhale and exhale
Dark Blue berry flavour - maybe currants too?
Not too confusing, taste-wise
Idk. I'm not a sommelier or anything.
One of my favourites
---
We Also Recommend
---