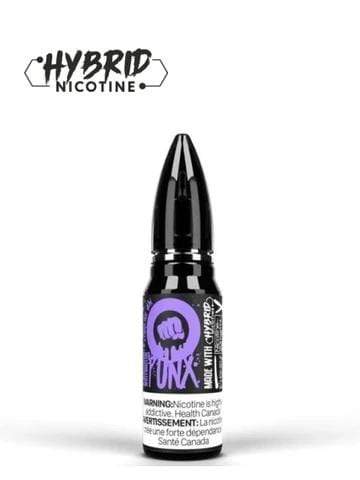 Blackcurrant Watermelon Hybrid Salts - Riot Squad Punx - 30mL
Riot Salts
Blackcurrant Watermelon Hybrid Salts By Riot Squad Punx
Blackcurrant Watermelon Salt Nic by Riot Squad Punx is a fruit blend known for its overall rich flavour. A bittersweet blackcurrant and juicy watermelon combine for a balanced vape. A delicious fruit dream to bombard your taste buds, giving you an unforgettable juice punch.
Riot Salt, designed with Hybrid Nicotine, has taken Europe by storm. Capped at 20ml/ml, hybrid nicotine is a perfect balance of Salt Nicotine and Freebase Nicotine. The salt nicotine satisfies your nicotine itch and hits your bloodstream faster while the freebase gives you the instant satisfactory throat hit.
Punx Blackcurrant Watermelon vape juice by Riot Squad Salt E-Liquid comes in 30mL bottles & 50VG / 50PG hybrid nicotine salts blend.
Riot Squad Salts E-Liquid - Punx - BlackCurrant Watermelon Hybrid Salt Nic Features:
Flavour Profile: Blackcurrant, Watermelon, Punch
30mL Chubby Unicorn Bottle
Nicotine Salts Formulation mixed with Freebase Nicotine
Crafted For Ultra-Low Wattage & Pod-Based System
50% PG
50% VG
Made in UK
Available Nicotine: 10mg Hybrid, 20mg Hybrid
Riot S:alt E-Liquid is NOT intended for use in Sub-Ohm Tank systems. Riot Squad Salts E-Liquid is intended for small form factor, fillable pod systems. Ensure your customers are properly informed as Riot Salt Nic E-Liquid contains significantly higher levels of nicotine per milliliter.
Pretty good.
Better than most blackcurrant flavors. Love the bottle shape. I wish they all were like that.
Great Product
The taste is delicious & you get an awesome puff.
Tastes good but..
It was good for flavour but it hit a little too hard. Was like a lung punch. It it were to mellow out the throat hit I would definitely give a 4 star.
It came very fast, I love it. Thank you.
---
We Also Recommend
---