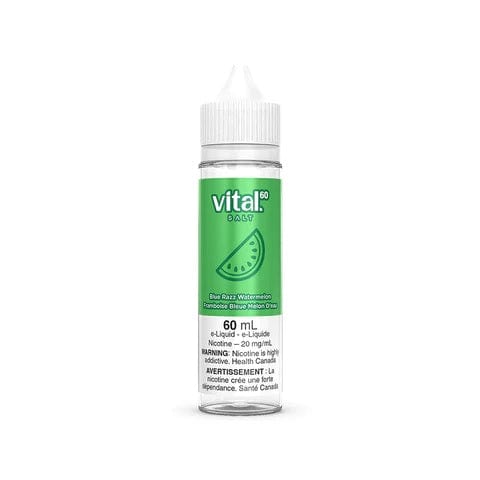 Blue Razz Watermelon Nic Salts - Vital 60 Salt - 60mL
VITAL
Blue Razz Watermelon Nic Salts By Vital 60 Salt - 60mL
Blue Razz Watermelon Nic Salts by Vital 60 Salt is a mouth-watering fusion of tangy blue raspberries and juicy watermelon that will take your taste buds on a wild ride. This premium e-liquid is crafted to perfection, with a balanced blend of sweet and sour flavours that will keep you coming back for more. With every puff, you'll taste the refreshing sweetness of watermelon, perfectly complemented by the tartness of blue raspberry. Made with the finest ingredients and available in a 60ml bottle, this e-liquid is the perfect addition to any vaper's collection. Whether you're a fan of fruity flavours or just looking for something new to try, Blue Razz Watermelon by Vital 60 Salts is sure to satisfy your cravings. So why wait? Try it today and experience the unforgettable taste of this sensational e-liquid.
Vital 60 Salt Blue Razz Watermelon Nic Salts come in 60ml bottles & 50VG / 50PG nicotine salts blend.
Vital 60 Salt - Blue Razz Watermelon Salt Nic Features:
Flavour Profile: Blue Raspberries, Watermelon
60mL Chubby Gorilla Bottle
Child Resistant Cap
Nicotine Salts Formulation
Crafted For Ultra-Low Wattage & Pod-Based System
50% VG
50% PG
Available Nicotine: 12mg, 20mg
Vital 60 Salts E-Liquid is NOT intended for use in Sub-Ohm Tank systems. Vital 60 Salts E-Liquid is intended for small form factor, fillable pod systems. Ensure your customers are properly informed as Vital 60 Salts E-Liquid contains significantly higher levels of nicotine per milliliter.
---
We Also Recommend
---