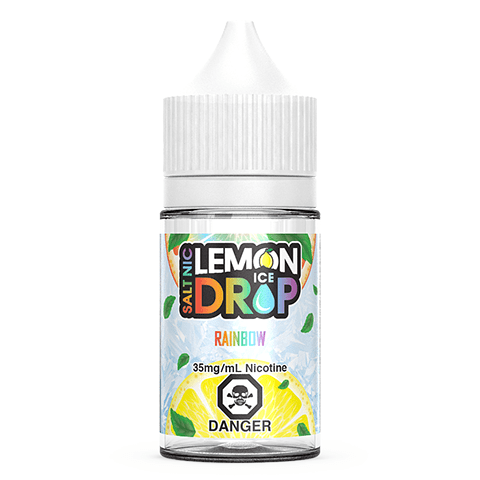 Punch Salt Nic - Lemon Drop ICE Salts - 30mL
Lemon Drop Salts
Punch Salt Nic By Lemon Drop ICE Salts
Punch Salt Nic by Lemon Drop ICE Salts - The rainbow never tasted better than this new blend of classic red fruit punch lemonade now with a nice cold kick.
Lemon Drop ICE Rainbow Punch Salt Nic comes in 30ml bottles & 50VG / 50PG nicotine salts blend.
Introducing Bold35 and Bold50 is a unique hybrid nicotine blend optimized for your salt nic vape system with a stronger throat hit to replace the satisfaction of the original 35mg & 50mg salts, using only 20mg of nicotine.
Lemon Drop ICE Salts - Rainbow Punch Salt Nic Features:
Flavour Profile: Red Fruit Punch Lemonade, Menthol
30mL Chubby Unicorn Bottle
Child Resistant Cap
Nicotine Salts Formulation
Crafted For Ultra-Low Wattage & Pod-Based System
50% VG
50% PG
Made in Canada
Available Nicotine: 12mg, 20mg, BOLD50
Lemon Drop Salt E-Liquids is NOT intended for use in Sub-Ohm Tank systems. Lemon Drop Salts is intended for small form factor, fillable pod systems. Ensure your customers are properly informed as Lemon Drop Salt Nic E-Liquid contains significantly higher levels of nicotine per milliliter.
Awesome flavour !
Love the fruity flavour & the extra kick the ice gives
Rainbow Salt Nic - Lemon Drop Ice - 30mL
Pretty fucking good
Amazing flavour, all my homies love it and always ask to hit my vape whenever I whip it out, but personally my absolute favourite was the pink lemonade so some 50 salt and even 20 salt would be amazing
best flavour
my all time hands down favourite
Happy with my purchase .Thank you .
---
We Also Recommend
---