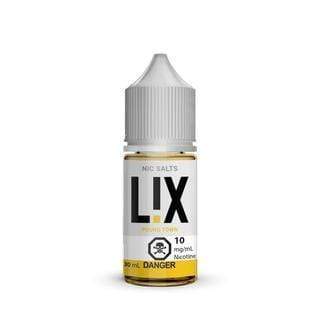 Pound Town Salt - LiX Nic Salts - 30mL
L!X
Pound Town Salt By LiX Nic Salts
Pound Town by LiX Nic Salts takes a slice of buttery moist yellow cake and expands it with a deluge of colourful sugar sprinkles to produce a powerful nicotine salt blend of sweetened pound cake.
LiX Pound Town vape juice comes in 30mL bottles & 60VG / 40PG nicotine salts blend.
LiX Nic Salts - Pound Town Salt Nic Features:
Flavour Profile: Flour, Cream, Eggs, Sugar
30mL Chubby Unicorn Bottle
Child Resistant Cap
Nicotine Salts Formulation
Crafted For Ultra-Low Wattage & Pod-Based System
60% VG
40% PG
Manufactured by The Juice Punk Inc
Made in Canada
Available Nicotine: 10mg, 20mg
L!X Salt E-Liquids is NOT intended for use in Sub-Ohm Tank systems. LiX Salts is intended for small form factor, fillable pod systems. Ensure your customers are properly informed as LiX Salt Nic E-Liquid contains significantly higher levels of nicotine per milliliter.
Fast shipping .. great products
Pound town is one of my favourites .. so happy it was in stock at Liberty. Great service and fast shipping . Will defiantly order again.
If it wasn't for this juice id quit vaping
that's how good this juice is!
Pound Town E-Juice - LiX Nic Salts - 30mL
Very potent and great taste, thick and creamy for when you need a pick me up
---
We Also Recommend
---