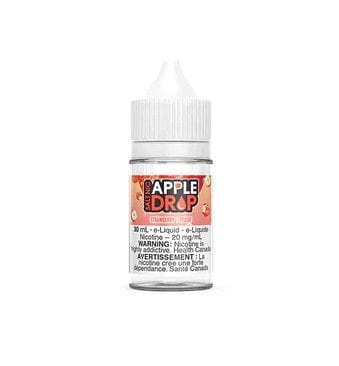 Strawberry Salt Nic - Apple Drop Salts - 30mL
Apple Drop Salts
Strawberry Salt Nic By Apple Drop Salts
Strawberry Salt Nic by Apple Drop Salts is a unique strawberry and apple blend that will tantalize your taste buds and give you an unforgettable vaping experience. With the perfect balance of sweet and tart, it's sure to become your go-to flavor. Enjoy a smooth and satisfying hit each time with STRAWBERRY BY APPLE DROP SALT!
Apple Drop Strawberry Salt Nic comes in 30mL bottles & 50VG / 50PG nicotine salts blend.
Introducing Bold35 and Bold50 is a unique hybrid nicotine blend optimized for your salt nic vape system with a stronger throat hit to replace the satisfaction of the original 35mg & 50mg salts, using only 20mg of nicotine.
Apple Drop Salts - Strawberry Salt Nic Features:
Flavour Profile: Strawberry, Red Apple, Green Apple
30mL Chubby Unicorn Bottle
Nicotine Salts Formulation
Crafted For Ultra-Low Wattage & Pod-Based System
50% PG
50% VG
Made in Canada
Available Nicotine: 12mg, 20mg, Bold 50mg
Apple Drop Salt is NOT intended for use in Sub-Ohm Tank systems. Apple Drop Nic Salts is intended for small pod systems.
Everything came in time. Very good. No complaints.
Great product and fast shipping. Note 10!
---
We Also Recommend
---