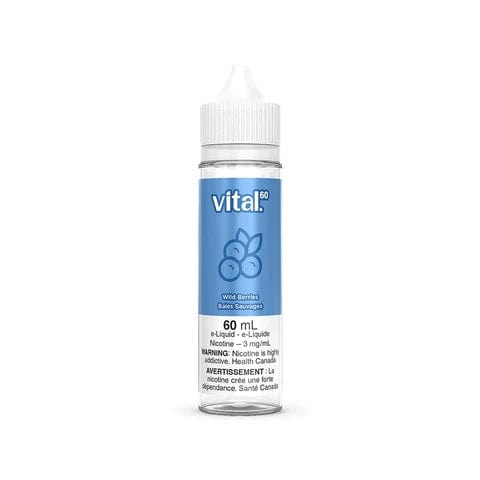 Wild Berries - Vital 60 E-Liquid - 60mL
VITAL
Wild Berries By Vital 60 E-Liquid
Wild Berries by Vital 60 E-Liquid offers a delicious blend of juicy and flavourful berries. This e-juice is perfect for vapers who love the taste of wild berries and want a vape experience that is both sweet and refreshing.
With every puff, you'll experience the sweet and tangy flavours of wild berries, which are perfectly balanced by the high-quality ingredients used to create this e-liquid. The flavours are rich and delicious, and they come together in perfect harmony to create a vape experience that you won't be able to get enough of.
Made with only the highest quality ingredients, Wild Berries by Vital 60 offers a clean and pure taste that is free from any harshness or bitterness. This e-liquid is perfect for those who want a sweet and refreshing vape experience that is reminiscent of fresh-picked berries.
The e-liquid comes in a 60ml bottle, which is the perfect size for vaping on the go. The sleek and stylish design of the bottle makes it easy to carry with you wherever you go, so you can enjoy the delicious taste of Wild Berries by Vital 60 whenever you want.
Vital 60 Wild Berries vape juice comes in 60ml bottles & 70VG / 30PG premium e-juice blend.
Vital 60 E-Liquid - Wild Berries Features:
Flavour Profile: Wild Berries
60mL Chubby Gorilla Bottle
Child Resistant Cap
70% VG
30% PG
Available Nicotine: 3mg, 6mg, 12mg
My new favourite flavour.
Tons of berry flavour. No menthol or other odd tastes. Just great berries.
THANK YOU!!!!!!!!!!!!!!!!!!!!!!!!!!!!!!!!!!
---
We Also Recommend
---