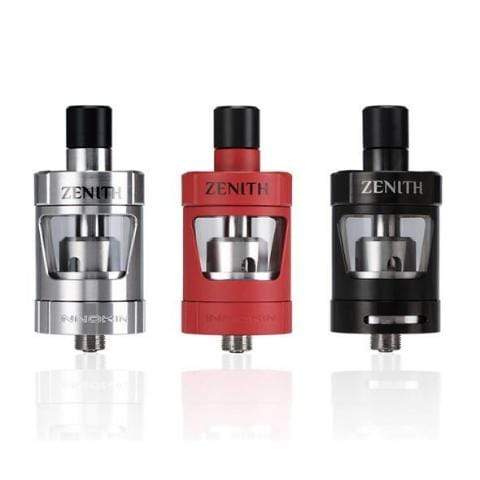 Innokin Zenith MTL Tank
Innokin
Innokin Zenith MTL Tank
The Innokin Zenith Tank (Canada) is a collaboration between two vaping legends Phil Busardo and Dimitris Agrafiotis. The goal was to create an easy and intuitive to use mouth to lung replaceable coil-head Vape Tank.
The Innokin Zenith MTL Tank will be available in both 4ml and 2ml TPD compliant versions. The Zenith Tank features an easy top fill twist design that will automatically shut off the liquid flow when filling in order to prevent flooding and gurgling, an adjustable airflow, and an easy and clean method to replace the coil. The tank comes with two different coils to tailor your vaping experience. One 1.6 Ohm Kanthal coil for a cooler vape at lower wattages. One .8 Ohm Kanthal coil for a slightly warmer vape and slightly higher wattages. There is also a QR code on the box that will direct you to tutorial videos that will help you in filling, cleaning, replacing the coil, and working with the tank in general. The tank is designed for the beginning and experienced vaper alike looking for a quality MTL experience in an affordable package. We truly hope you enjoy the Zenith Tank!
Quick Links:
Innokin Zenith MTL Tank Features:
Collaboration by Innokin, Phil Busardo, Dimitris Agarafiotis
23mm Diameter
4mL Maximum Juice Capacity
High-Quality Stainless Steel Construction
Pyrex Glass Reinforcement
Metal Sleeve Structure
Innokin Zenith MTL Coil Technology
0.8ohm Zenith Coil - rated for 15-18W
1.6ohm Zenith Coil - rated for 10-14W
Convenient Top-Fill Method - Twist Top Cap to Expose Filling Port
Multi-Holes Adjustable Bottom Airflow Control
Four Different Airslots Adjustments
4mm Wide 510 Delrin Drip Tip
5mm Wide 510 Delrin Drip Tip
510 Connection
Includes:
1 Zenith MTL Tank
1 1.6ohm Zenith Coil
1 0.8ohm Zenith Coil
1 Additional Delrin Drip Tip
Spare Parts & O-Rings
Instructional Manual
zennith innokin
Very good product, but occasional rise in liquid. Maybe it's because I'm only vaping 80PG / 20VG liquid.
PS: Very satisfied with the Liberty Vape service.
Fast delivery, accurate product description.
Very happy with this atomizer.
Perfect. As advertised, retail. Thank you!
---
We Also Recommend
---